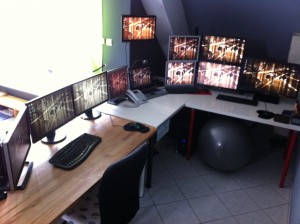 GREAT WEEK so far!
Phase 3 Trading desk 3rd PRO-trading desk Technical Part
To remind you
Phase 1 : Trading desk 1st trading desk 1st October 2015
Phase 2 Trading desk 2nd new practical trading desk mid-November 2015
During Christmas period, I managed to pull off the PRO-trading desk in my mind.
A couple of  ballpark figures:
– 12 screens (each one has a specific goal) one missing, underway…
– 3 internet provider(s) (backup)
– 4 PC
– 4500 $ equipment investment all in all
– 5500 $ bootcamp training investment
TOTAL 10.000 $
I'm working around the clock to make it happen.
Frankly, BIG DEAL has even not started, yet I'm ELATED and heading to the top of my requirements list.
If you like the post, feel free to share it