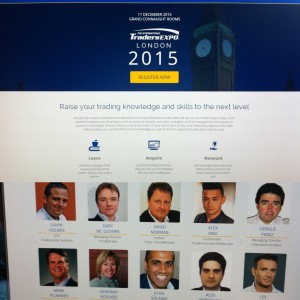 London TraderExPO December 2015
I will be in London this week to attend this event.
My 4th trading event within 3 months is underway! I now start to really grasp what professional trading is about.I Believe day trading/ retail trading / pro trading will evolve in a very different way in the next decade.
With the rise of "quantum" computer, HFT and so on, as a trader trainee, I've come to believe that the PAST doesn't equal the future. Especially in the world of trading.
Therefore, FX / EQUITIES / FUTURES / COMMODITIES are likely to be very different in a couple of years. A shift in paradigm is crucial
while learning to trade TODAY. Most of training courses are outdated, without even realizing it.
There are 2 types of tradeshow / exhibition. Paid and Free. To date,
I've only been to a free event.
Ticket for free event : 0-50 £ + travel expenses
Ticket for paid event: 500-2000 £ + travel expenses
Later, I will try the latter, paid-event, to see if it's worth the money you pay.Events are great opportunities to feel the trend in the TRADING world.I encourage you to attend trading exhibition(s) while learning to trade
If you like the post, feel free to share it