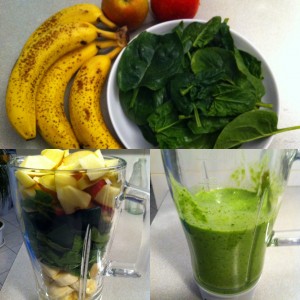 This picture depicts my FAVOURITE & DAILY MEALS.
Nutrition is the key factor to get 100% of your energy level.
My monthly intake:
Smoothie / or whole fruits made of organic fruits and vegetables.
3 per day ( 34 oz /1 l per intake)
90 smoothie(s)/ whole fruits per month
90 kg / 198 lbs of fruits & vegetables per month
180€ / 200 $ budget
If i eat out my smoothies, my 34 oz organic smoothie intake would cost 15 $.
Budget would skyrocket to 1230 € / 1350 $. More than +550%!
My meals are mainly:
90% smoothies
10% cooked vegetables, raw vegetables and quinoa…
There is a gland called pineal gland. Your awareness of your world is utterly dependent on how well your pineal gland is pure and clean. The only way to purify it is through 70 % NUTRITION, 20% MINDSET, and 10 % NATURE, in that order. The best nutrition is fruits and vegetables. Raw, ripe, organic, fresh and whole.
If you get you awareness, you will be able to achieve an incredible level of success in all areas of your life.
If you like the post, feel free to share it