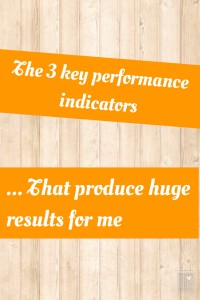 We may feel overwhelmed every now and then. 3 KPI (key performance indicators) which will permeate in all areas of your life. Fore the greater good!
KEEP your rules simple.When i do every task, i follow a 3 steps process. I DON'T CARE ABOUT ANYTHING ELSE.
Of course,  i have specific long term goals.Glad you asked: I have a 10 days, 1 year,5-years, 10-years, and 20 years goals. But, in my daily process, i DON'T THINK about them at all. I used to.
I USE 3 K.P.I to streamline everything.
1 PAIN vs PLEASURE
Life cannot SUCK any more, because i choose what sucks and what not.
Make pain impossible to feel. I explain.
You should set up simple rules in your life where it's very tough to feel pain and very easy to be happy.Not the other way around. Most people have too many rules in their life to be happy every day, no matter what.
2 CONTROL
Every breathe i take, is about what i CAN CONTROL. I don't care about anything else.
Focus on what you control. AND NOTHING ELSE. If you APPLY this principle hour by hour, you may be amazed how well life becomes really easy.
3 ONE BITE AT A TIME
GET a 1-day goal and stay laser focus.One day at a time. You can only act on the present day. Don't get lost in the past. Dream too much about the future.
Be obsessed about producing DAILY RESULTS.Create a daily FEEDBACK and TWEAK IT.
Try it 30-days in a row. Powerful habits > Huge results > Outstanding lifestyle .
Try it 1 year in a row. You  will be flabbergasted by what you will have done in your life.
If you like the post, feel free to share it