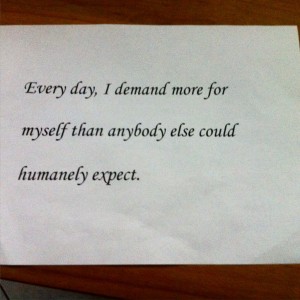 This sentence is IN FRONT of me ALL DAY LONG. This is why:
I do what I love because it is hard, not because it's easy.
Hi my friend, the greatest achievement boils down to 4 principles
1 Have you an ikigai? I'm a trader. You gotta love what you do. I mean business.  Don't do anything just for money.
2 How many hours should you work per day? All of them. And at least 50%, deliberate practice to be the best in your art!
3 How to start off? Emulate the best people in your field. Even if it takes two decades to do it. Be smart, not workaholic!
4 How should you feel? In a peak state, the journey matters more than the result. Once you get 1 million per year or more, you understand that the millionaire mindset is way more crucial than 1 million in your bank account.
To sum up,  check my previous post in LinkedIn: ( Hunger / Discipline / Smart / Awareness )
If you like the post, feel free to share it